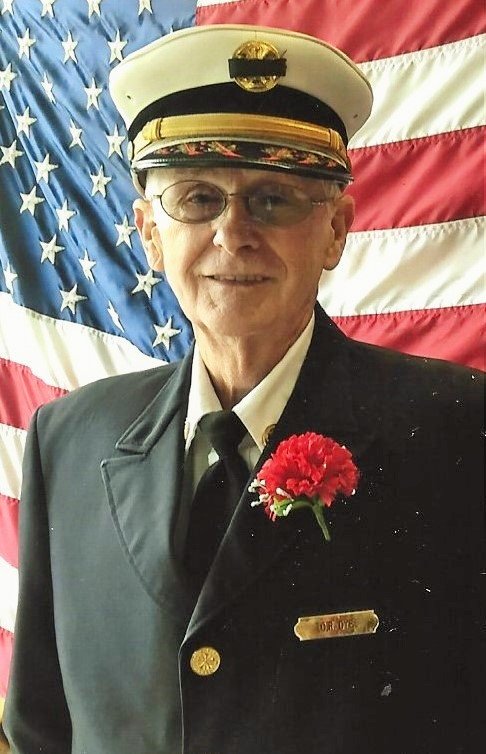 Obituary of Carl R. Dye
Carl R. Dye, 80, of Hightstown, passed away on Tuesday, February 25, 2020, at Capital Health Systems at Fuld Campus in Trenton.
Born in Trenton, NJ, Mr. Dye was a lifelong resident of Hightstown. He worked in the maintenance department, running computer cables, for IBM for 30 years and then for the Borough of Hightstown in maintenance and repair for 20 years before retiring 10 years ago. He was a volunteer for over 55 years with the Hightstown Engine Company #1 having trained many firefighters not only in Hightstown, but in neighboring communities as well. Mr. Dye was passionate about is his family and the fire company. If he was not spending time with his family, he could be found at the fire house. He will be remembered as a loving husband, father, grandfather, brother, uncle and mentor.
Predeceased by his parents, Walter R. Jr. and Florence (Griggs) Dye; his brother, Walter R. Dye, III; and his granddaughter, Dakota Marie Breese; he is survived by his wife, Gertrude "Trudy" C. (Perks) Dye; his children and their spouses, Carl R. Jr. and Cindy Dye, Cathy Dye, and Cyndi and Keith Magill; his grandchildren, Hailey, Danny, Katelyn and Kassie; his sister and brother-in-law, Jenifer and Richard Lewis; his sister-in-law Marianne Dye; his brother-in-law and sister-in-law Butch and Linda Perks; and many nieces and nephews.
Funeral services will be held on Saturday, February 29, 2020, at 11:30 a.m. at the Hightstown Engine Company #1, 140 North Main Street, Hightstown, NJ 08520.
Interment will follow at Cedar Hill Cemetery in Hightstown.
Visitation for family and friends will be held on Saturday, February 29, 2020, from 8:00 a.m. until 11:00 a.m. at the Hightstown Engine Company #1.
In lieu of flowers, contributions may be made in Mr. Dye's memory to Hightstown Engine Company #1 by visiting In Memory Of at inmemof.org.
Arrangements are under the direction of Simplicity Funeral and Cremation Services at Glackin Chapel, 136 Morrison Ave., Hightstown, NJ.
To send flowers to the family or plant a tree in memory of Carl Dye, please visit Tribute Store
Visitation
8:00 am - 11:00 am
Saturday, February 29, 2020
Hightstown Engine Co. #1
140 North Main Street
Hightstown, New Jersey, United States
Funeral Services
11:30 am
Saturday, February 29, 2020
Hightstown Engine Co. #1
140 North Main Stre
Hightstown, New Jersey, United States
Interment
12:45 pm
Saturday, February 29, 2020
Cedar Hill Cemetery
385 Mercer Street
Hightstown, New Jersey, United States
Following the funeral service
Simplicity Funeral and Cremation Services at Glackin Chapel
136 Morrison Avenue | Hightstown, NJ | 08520 | (609) 448-1801