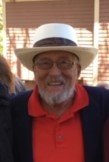 James A. Foster
James A. Foster, 86, of Cranbury, passed away Friday, December 13, 2019, at Penn Medicine at Princeton- Plainsboro Medical Center.
Born in Brooklyn, NY, James lived in Ridgefield, NJ prior to settling in Cranbury, NJ, 55 years ago.
He received his Bachelor's Degree from Rutgers University and served in the U.S. Army during the Korean Conflict. James then went on to work as a systems analyst for McGraw Hill in Cranbury retiring after 50 years of service.
James enjoyed golfing, bowling, and spending time at the beach in Belmar.
Predeceased by his parents, Arthur and Harriet Plummer Foster; his wife, Annie Mari Foster; his son-in-law, Jeffrey DeFreitas; and his brother, Alan Foster; he is survived by his son and daughter-in-law, Steven and Lynn Foster; his two daughters and son-in-law, Michelle DeFreitas, and Traci and Mark Skodacek; his four grandchildren, Anthony and his significant other, Melissa, Daniel, Amber and Nicholas; and his great-grandchildren, Scianna and Chino.
Funeral services will be held on Tuesday, December 17, 2019, at 9:30 a.m. at Simplicity Funeral and Cremation Services at Glackin Chapel, 136 Morrison Ave., Hightstown, NJ.
Interment will follow at Holy Cross Burial Park, South Brunswick.
Visitation for family and friends will be held on Monday, December 16, 2019, from 7:00 p.m. until 9:00 p.m. at Simplicity Funeral and Cremation Services at Glackin Chapel.