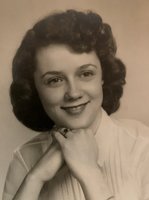 Sherrill Ann Byrnes
Sherrill Ann (White) Byrnes, 84, passed away at her home in Hamilton, NJ on Sunday, November 24, 2019, surrounded by her loving sons and daughter.

Born in Mitchell, SD on November 15, 1935, Sherrill had lived in South Dakota, Massachusetts, New Jersey and Florida. Sherrill graduated from Natick High School and from secretarial trade school. She retired from IBM in 1995 after working in New Jersey, New York and Tokyo, Japan.

Sherrill enjoyed spending time with her grandchildren and great-grandchildren and was an avid reader and player of Bridge, Mahjong and Dominoes. She took great pleasure in hand crafting special occasion greeting cards for family and friends. She loved the arts and was a strong supporter of progressive causes.
Sherrill is predeceased by her parents, Andrew and Florence (Breck) White; and her daughter, Lynne Byrnes. She is survived by her sisters, Janet (White-Sullivan) Cain and husband, Paul, and Sandra (White) Poyant and husband, Mark; her brother, James White and wife, Mary; her sons, Fredrick Byrnes, Robert L. Byrnes and partner, Al Bola, and Timothy Byrnes and partner, Kenneth Foor; her daughter, Karen (Byrnes) Meisberger and husband, Michael Moskowitz; her grandchildren, Nicholas Meisberger and wife, Nikki, Robert J. Byrnes, Thomas Byrnes and wife, Kristen, Brittny (Meisberger) Dean and husband, Brian, Marissa Moskowitz, and Joshua Moskowitz; and her great-grandchildren, Grace Dean and Hailey Meisberger.

A Life Celebration Service will be held on Saturday, January 4, 2020, from 10:00 a.m. until 12:00 p.m. at Simplicity Funeral and Cremation Services at Glackin Chapel, 136 Morrison Ave., Hightstown, NJ 08520. Cremation was private.

In lieu of flowers, donations may be made in Sherrill's memory to St. Jude Children's Research Hospital, 501 Saint Jude Place, Memphis, Tennessee 38105 or Mercer Street Friends Food Bank, 824 Silvia St., Ewing, NJ 08628.