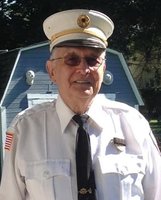 Joseph A. Seip
Joseph A. Seip, 81, of Hightstown, NJ, passed away on Saturday, December 22, 2018 at his home.
Born in Trenton NJ, Joseph was a lifelong Hightstown resident. He served with the US Naval Reserves for eight years. Employed with McGraw Hill, Joseph was a part of the "Original 10" warehouse equipment operators and repairmen. He retired after 35 years of service. He then went on to serve as Fire Official for Hightstown, Allentown, Robbinsville, and Cranbury.
Joseph was a dedicated member of the Hightstown Fire Department for 55 years. A true outdoorsman, he enjoyed hunting, fishing and auto racing. Joseph will be remembered fondly for his quiet presence, kind giving spirit and dry wit.
Predeceased by his parents, Joseph and Jessie (Ceranko) Seip; his twin brother, Jerry; and his sister, Charlotte; he is survived by his loving wife of 58 years, Delores (Johnson) Seip; his son, David Seip and his wife Judith "Chris"; his daughter, Stacy Seip-Lawler and her husband John; his grandchildren Joseph, Kaitlin, Colleen, Tommy, Jack and Brian; his great-grandchildren, Andrew, Jakob, Reagan, Tyler and Michael; and several cousins, nieces and nephews.
Funeral services will be held on Friday, December 28, 2018, at 11:30 a.m. at Simplicity Funeral and Cremation Services at Glackin Chapel, 136 Morrison Ave., Hightstown, NJ.
Entombment will follow at Princeton Memorial Park Mausoleum in Robbinsville, NJ.
Visitation for family and friends will be held on Thursday, December 27, 2018, from 5:00 p.m. until 8:00 p.m. at Simplicity Funeral and Cremation Services at Glackin Chapel.
In lieu of flowers, contributions may be made in Joseph's memory to Hightstown Fire Company #1, by visiting In Memory Of via inmemof.org.