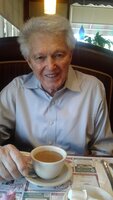 John Carli
Wm. John Carli, 92, of East Windsor, NJ, passed away on Thursday, June 16, 2022 at Robert Wood Johnson University Hospital in Hamilton.
Born in Brooklyn, NY, John resided in New York until settling in New Jersey in 1988. He served honorably in the United States Army from 1951 to 1952. John worked in construction for several years before joining the New York City Department of Sanitation where he retired as a manager. He returned to construction work after his retirement from the city.
In his spare time, John enjoyed tennis, handball, theatre and especially travel.
Predeceased by his parents, Victor and Elisabeth (Dal Ponte) Carli; he is survived by his loving wife, Mona (Jageman) Carli; his children, Donna Carli Cirillo and John V. Carli; and his grandchildren, Alexandria Martinson, Giana Carli and John Cirillo.
Cremation services were held privately.
In lieu of flowers, contributions may be made in John's memory to St. Jude Children's Research Hospital or Wounded Warrior Project.org by visiting In Memory Of at inmemof.org.