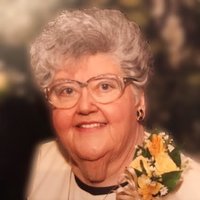 Helen Louise Jackson
Helen Louise Jackson, 92, of East Windsor, passed away on Monday, October 15, 2018 Meadow Lakes, in East Windsor, NJ.
Born in Fall River, and raised in Boston, Mrs. Jackson resided in Bethesda, MD and was a resident of Shaler Township and the North Hills in the Pittsburgh area before coming to East Windsor in 2006. She attended Girls Latin School, Bethesda, MD (the first college preparatory high school for girls in the United States) and graduated from Bethesda Chevy Chase High School, Class of 1943 in Bethesda, MD.
Mrs. Jackson served as a Bank Teller and Accounts Manager for The National Bank of Washington in Washington DC, and was the co -founder, with her husband Calvin, of Vending Maintenance Co., in Sharpsburg, PA and Pennsylvania Industrial Catering of Russellton, PA.
In her spare time, she enjoyed music, bowling, cards, and water aerobics but most of all, Mrs. Jackson cherished time with her family; especially with her grandchildren and great-grandchildren.
Predeceased by her husband, Calvin Richard Jackson; her parents, Catherine V. and Edward A. Porter; her sisters and brothers-in-law, Catherine and Archie White and Doretha B. and Gene Piatrangeli; her brother, Lt. Edward A. Porter, Jr.; her mother-in law and father-in-law, Johannah (Knauss) and Richard T. Jackson; and her brother-in-law and sister-in-law, Robert and Helen Jackson; Mrs. Jackson is survived by her children, Edward Richard and his wife, Margaret Jackson (Annapolis MD), John Calvin and his wife, Aleida Jackson (Union City, PA), and Patricia A. Ross-Concepcion and her husband, Fernando Concepcion (Monroe, NJ); her grandchildren, Loree Lutz and her husband, Brian (North East, PA), Wendi Leas and her husband, Christopher (Henderson, NC), Brittany Powell and her husband, Liam of Pittsburgh; her step-granddaughter, Lindsey Goebel and her husband, Jon (Annapolis, MD); and her great-grandchildren, Ashleigh, Allyson, Alexa, Reagan, Riley, Meyer, James and Oliver
Funeral services will be held on Monday, October 22, 2018, at 11:00 a.m. at the Eloise B. Kyper Funeral Home, 2702 Mt. Royal Blvd., Glenshaw, PA 15116.
Private interment will follow at Mt. Royal Cemetery Mausoleum, Glenshaw, PA.
Visitation for family and friends will be held on Monday, October 22, 2018 from 10:00 a.m. until the time of service at the funeral home.
In lieu of flowers and in never-ending thanks and ongoing support to the employees of Meadow Lakes Retirement Community, contributions may be made in Mrs. Jackson's memory to the Meadow Lakes Employee Education Fund, payable to Meadow Lakes Forum, (with a memo denoting the Education Award Fund), 82 Meadow Lakes, Hightstown NJ 08520 or by visiting In Memory Of at inmemof.org
Arrangements are under the direction of the Simplicity Funeral and Cremation Services at Glackin Chapel, 136 Morrison Avenue, Hightstown, NJ.