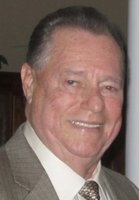 LeRoy Edmond "Lee" Platt
LeRoy "Lee" Edmond Platt, 77, of Palm Beach Gardens, FL, formerly of Hightstown, NJ passed away on Monday, May 31, 2021, at Robert Wood Johnson University Hospital in Hamilton, NJ.
Born in Trenton, NJ, Lee was raised in Hightstown, NJ. He graduated from Hightstown High School and received his bachelor's degree from College of Emporia in Kansas, where he met his future bride, Kathy. They married in 1965 and returned to the Hightstown Area. They lived with their family in Cranbury Manor in East Windsor, NJ until 2006 when they moved to Enchantment in Hamilton, NJ. In 2016 Lee and Kathy moved to Port St. Lucie, FL before fully retiring to Palm Beach Gardens, FL in 2020.
Prior to his retirement, Lee wore many hats. He worked as a teacher in Allentown, NJ, served as a factory rep for Allied Chemical Corp., a sales rep for A.H. Robbins/American Home Products and R.C. Maxwell Corp, and did security for Conair Corp.
For many years Lee was an avid softball player and bowler in several leagues throughout Mercer County. He was a member of the Knights of Columbus, where he was a 4th Degree Knight. He also was a member of several Corvette Clubs. While his children were growing up, he enjoyed coaching with the Pop Warner Football League. Lee was very proud to be a member of the Hightstown High School Athletic Hall of Fame and his accomplishments in soccer, basketball and baseball.
Predeceased by his parents, LeRoy and Pauline (Reichwein) Platt; he is survived by his wife, Kathleen (Barker) Platt; his son, Lee Thomas Platt and his fiancée, Renee Arnold; his daughters, Kimberly Platt Bonavico and her husband, Joseph M. Bonavico, and Kelly Elizabeth Platt and her fiancée Mariangela Mazzola; his grandchildren, Nicholas Bonavico, Michael Bonavico, Danielle Bonavico and Shane Platt; and his lifelong friendsm Kurt and Leslie Hiller, and Fred and Nancy Killian.
Cremation services were private.
A Memorial Gathering for family and friends will be held on Saturday, June 5, 2021, from 1:00 pm until 5:00 pm at Simplicity Funeral and Cremation Services at Glackin Chapel, 136 Morrison Avenue, Hightstown, NJ. A prayer service will be offered at 1:00 p.m.
Masks are optional for attendees for the services honoring Mr. Platt.
In lieu of flowers, contributions may be made in Mr. Platt's memory to The American Heart Association by visiting In Memory Of at inmemof.org.