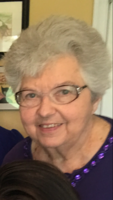 Kathleen H. Ruggiero
Kathleen H. Ruggiero, 79, of East Windsor, passed away at home on Friday, April 23, 2021.
Kathleen was the daughter of the late, Joseph T. and Estella Higham. Born and raised in Trenton, she resided in East Windsor for the past 48 years. She was a graduate of Douglass College, Rutgers University and worked at ETS and as the Assistant Registrar at Rutgers University before leaving her career to devote herself to her family and the family business, Ben's Shoe Repair. After her children were grown, Kathleen rediscovered her management talents at Roper ASW in Montgomery, NJ where she worked until her retirement in 2007.
She was beloved by her husband of 47 years, Biagio Ruggiero; her children, Bernice Wiles of Hagerstown, MD, Estella (Don) Gilpin of West Windsor, Celeste (Pete) Gray of Robbinsville and Biagio (Erin) Ruggiero of Pittsburgh, PA; and her grandchildren, Liam and Nora Gray, Henry Gilpin and Benjamin and Eliza Ruggiero. She will forever be remembered by her brother, Joseph (Geraldine) Higham of Pennington, NJ; and her sister, Margaret Hryniuk of Garner, NC; and by her nieces, nephew, cousins and friends.
A Mass of Christian Burial will be celebrated on Thursday, April 29, 2021, at 10:00 a.m. at Sacred Heart R.C. Church, 343 S. Broad Street, Trenton, NJ 08608
Interment will follow at Old Tennent Cemetery in Manalapan, NJ.
Due to funeral restrictions, the staff of Simplicity Funeral and Cremation Services at Glackin Chapel respectfully requests all funeral attendees wear a face covering during all services for Mrs. Ruggiero. We appreciate your cooperation.
In lieu of flowers, contributions may be made in Mrs. Ruggiero's memory to The RISE Community Services Partnership of Hightstown by visiting In Memory Of at inmemof.org.