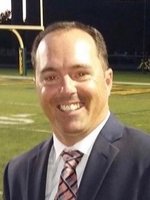 James W. "Jim" Peto, Jr.
James W. "Jim" Peto, Jr., 43, of East Windsor, NJ, passed away suddenly at home on Thursday, January 21, 2021.
Born in Newtown, PA, Jim was a graduate of Council Rock High School, Class of 1996 and later graduated from West Chester University, Class of 2001 with a degree in Kinesiology. He had a thirst for knowledge and pursued his education by obtaining a Master's degree in Art Teaching at Marygrove College and ultimately went on to receive his Supervisor of Education degree at Thomas Edison State University.
Jim arrived at Hightstown High School in 2004 and has fully committed himself to the faculty and students at the East Windsor School District for the past 16 years as an educator, colleague, coach, and friend. He was currently serving as the Athletic Director at Hightstown High School and the Supervisor of Physical Education and Health for the district. Throughout Jim's life, sports have been a constant. He was a member of the West Chester University Ski Team and later began his coaching career at Cape May Vo-Tech as the head coach for the baseball and women's soccer teams for three years before coming to Hightstown. Over the years, Jim served as the Head Baseball coach for Hightstown High School for 10 years and attained his 100th career win in 2015, Assistant Girls Soccer Coach, and Assistant Wrestling Coach. From 2017-2019, he served as President of the CVC and over the years has assisted with baseball, basketball, football, and field hockey events for the conference. He was the Director of the Mercer County Tournament for ice hockey in the CVC, was extremely involved with running the Mercer County basketball tournaments for both the boys' and girls' leagues, and served on many CVC athletic committees, including the Recognition Committee.
Jim adored his family and loved nothing more than spending time with Amanda, Chase and Lilly. He enjoyed turning the family's backyard into an oasis with axe throwing, horseshoe pit and the pool, oh let's not forget the Pergola and firepit. He loved entertaining family and friends in the outdoor kitchen by preparing pizza, using the smoker and making Hibachi on the Blackstone. When not at the house, Jim enjoyed watching his children participate in sports; EWPAL Lacrosse and Kreps Soccer for Chase, while Lilly played Field Hockey with Bordentown and softball with Robbinsville Rampage. He also loved their family vacations to the beach and crabbing with his family in North Myrtle Beach.
Jim is survived by his wife, Amanda L. (Porter) Peto and his children, Lilly J. and Chase J. Peto all of East Windsor; his parents, James W., Sr., and Carol (Courtney) Peto of North Myrtle Beach, SC; his brother and sister-in-law, Todd and Genevieve Peto, along with his nephew, Cameron, of Yardley, PA.; his mother-in-law, Kathryn Colvin and her husband, Brad, of Spring Hill, FL; his father-in-law, Bob Porter of Cape May, NJ; his sister-in-law, Colleen Porter and her fiancé, Eric Strobeck, of Freeport, FL; his brother-in-law, R. Jack Porter of Conshohocken, PA; and many loving family members and dear friends.
Visitation will be held on Thursday, January 28, 2021, from 2:30 p.m. to 4:30 p.m. at Simplicity Funeral and Cremation Services at Glackin Chapel, 136 Morrison Avenue, Hightstown, NJ.
Cremation services will be private.
In lieu of flowers, contributions may be made in Jim's memory to East Windsor PAL by visiting www.leagueathletics.com/UserForm.asp?RegID=209406&org=ewpal.org or Jim's In Memory Of page at inmemof.org.