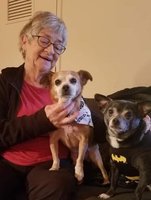 Carole A. Dailey
Carole A. Dailey, 74, of East Windsor, passed away on Wednesday, December 2, 2020, at Penn Medicine-Princeton Medical Center in Plainsboro, NJ.
Born in the Bronx, NY, Carole was a longtime East Windsor/Hightstown area resident. She worked in the Claims Department of AAA for many years. After retiring from AAA she worked with the Before and After Care Program with the East Windsor School District for the past 10 years.
Carole was devoted to her family and cherished being "Grammy" to her eight grandchildren. Always willing to assist others, she considered helping others her "oxygen". Carole was an active participant in AA for 39 years. She lived her life by the Grace of God and tirelessly advocated for those in need of the help available through the 12-step program. Carole loved animals as well, especially her dogs. She also devoted time to the East Windsor Womanspace Domestic Violence Advocacy Group.
Predeceased by her father, L.B. Jackson and her mother, Florence Setzer; she is survived by her children, Donalyn Dailey, Gregory and his wife, Cherlyn, Christopher, Scott, and Ryan Dailey; her grandchildren, Colin, Erin, Sean, Brian, Finian, Emma, Lukas and Trystan.
A Memorial Service will be held Saturday, August 7, 2021, at 11:00 a.m. at the First Presbyterian Church of Hightstown, 320 N. Main Street, Hightstown, NJ. A reception will follow.
Masks are optional for those attending the services.
In lieu of flowers, contributions may be made in Carole's memory to East Windsor Womanspace Domestic Violence Advocacy Group by visiting In Memory Of at inmemof.org.