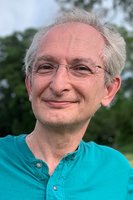 Edward Michael Fago
Edward Michael Fago, 62, of East Windsor, NJ, passed away on Thursday, July 23, 2020, at Robert Wood Johnson University Hospital in New Brunswick, NJ.
Son of the late Ralph P. and Dorothea Fago, Ed was born in Staten Island, NY. Predeceased by his nephew, Ralph E.; Ed is deeply missed by the love of his life, Mary Beth; his girls, Katie and Erin; his sister, Jeanne; his brother and sister-in-law, Ralph and Jeanette; his sisters-in-law and brothers-in-law, Sharon and Bobby, Denise, Alisa and Paul, Reyne and David, and Tara; and his nieces and nephews, Jana, Shaun, Jeffrey, Scott, Courtney, and Christopher.
Enthusiastic about his studies, Ed earned his B.S. in Accounting from Saint John's University in 1979. After graduation, he began his 20 year-long career as an Auditor at Banker's Trust in New York City. From 1999 right up until he started his second health battle in December 2019, Ed served as a Senior Adjunct Professor at Mercer County Community College, teaching AutoCAD. His passion for 18th century history; all things car related, specifically his first car, a 1968 Dodge Coronet; and sharing news about his daughters to anyone that had ears, was unmatched.
In addition to his role of cheering on his daughters' swimming careers, Ed volunteered as head referee, official, and starter for USA Swimming, as well as Vice President of Princeton Area Swimming and Diving Association (PASDA) and Parent Coordinator for the Franklin and Marshall swim team. An active member in the Peddie community, Ed served on the Peddie Parents Association (PPA), taught swim lessons, and headed the annual Peddie Auction for a number of years.
Our poppa loved everything he had the opportunity to be part of and thoroughly enjoyed all the amazing people he befriended along the way. He taught us all so much, brought so much light into our lives, made us feel so loved, and left behind so many meaningful memories.
In lieu of flowers, please consider donating to Be the Match and/or donate blood to the Red Cross by visiting www.bethematch.org/support-the-cause and www.redcross.org/give-blood.
Visitation for friends and family will be held on Monday, July 27, 2020, from 4:00 p.m. until 7:00 p.m. at Simplicity Funeral and Cremation Services at Glackin Chapel, 136 Morrison Ave., Hightstown, NJ.
A Mass will be celebrated on Tuesday, July 28, 2020, at 10:00 a.m. at Saint David the King R.C. Church, 1 New Village Road, Princeton Junction, NJ.
Due to current COVID-19 regulations, masks and social distancing are required, and capacity restrictions will be followed for services.
Ed loved color so please include a splash of it in your attire to help celebrate his life!
We encourage all to share memories, words of comfort, leave a message of condolence for the family, or share a favorite story or special way Ed touched your heart. Each one will help provide comfort and hope to all who read the remembrances. You are welcome to plant a tree, light a candle, or post a photograph of Ed via the website.