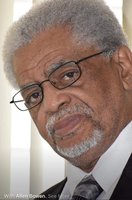 Pastor Allen Bowen
Pastor Allen Bowen went from labor to reward on Tuesday April 14th, at his residence in Monroe, NJ due to complications of heart failure.
Born in Newark on August 19, 1948, Allen, became known by many as "Nicky" while growing up in Newark, NJ. While attending Weequahic High School from 1963 to 1966, he was a part of the first class of integration. Allen was an honorably discharged veteran of the United States Marine Corp. having served during the Vietnam War from 1968-1974 and attained the rank of E3. He graduated from New Jersey Teachers College, now known as Kean University. Allen later earned his Theology Degrees at Screven Memorial Bible Institute and Evangelical Bible Institute and was proudly ordained on November 9, 2013.
Pastor Bowen leaves to cherish his memory, his wife, Barbara; his five children, First Sgt. Antonio, Ret. (Ethel), Officer Antwonette (Craig), Tamara (Carl), Jason (Yolanda), and Allen, II (Carrie); his 16 grandchildren and five great-grandchildren; his sister and brother Alicia and David; his aunt, Francis along with a host of in-laws, nieces, nephews cousins and special friends.
A Celebration of Life service will be held at a date to be announced. Please continue to visit our website for service details. Due to the current temporary regulations in our state and nation, cremation services were private.
For those who wish to honor Allen, in lieu of flowers, contributions may be made in his memory to St. Jude Children's Research Hospital by visiting In Memory Of at inmemof.org.
We encourage all to share memories, words of comfort or leave a message of condolence for the family. Perhaps share a favorite story or special way Allen touched your heart. Each one will help provide comfort and hope to all who read the remembrances. You are welcome to plant a tree, light a candle, or post a photograph of Allen via the website.
Arrangements are under the direction of Simplicity Funeral and Cremation Services at Glackin Chapel, 136 Morrison Ave., Hightstown, NJ.